Custom software that drives growth
.
PROPEL YOUR BUSINESS TO THE NEXT LEVEL
.
Is your business not running as efficiently as it could be? We can help! HamilTEK Solutions develops custom software solutions that help small and medium-sized businesses grow. We have a strong background in business and use the highest quality development tools to rapidly build Web, Mobile, and Desktop applications in a fraction of the time of traditional methods. Transform your business today with HamilTEK Solutions!
Reduce Errors – reduce mistakes
Increase Efficiency  – streamline processes and increase productivity
Streamline Real-Time Reporting – real-time access to accurate data and analytics
Increase Flexibility – quickly adapt to changes
Provide Scalability – promotes business growth
PROPOSE BUSINESS SOLUTIONS
Once we know your business processes and requirements, we identify areas that can be improved with custom software.
DEVELOP CUSTOM SOFTWARE
We develop full-scale and feature-rich business solutions for the Web, Mobile, & Desktop platforms.
PROVIDE ON-GOING SUPPORT
We offer continued consultation and development, as well as hosting and support.
In today's world, every business needs efficient software to meet or exceed its business goals. Developing software from scratch can be a very long and costly process. Universal software packages are available, but they are also very costly to configure and don't allow for full customization. We believe we have a better solution. HamilTEK Solutions leverages the DevExpress eXpressApp Framework (XAF) to rapidly develop high-quality, fully-customized software solutions for businesses in any industry. Our developers still need to write code, but the amount is drastically reduced by XAF.
RAPID DEVELOPMENT
Our vast, cross-industry business expertise allows us to quickly understand your business requirements. Combine that with the use of XAF and you can expect your project to be completed in a fraction of the time of traditional methods.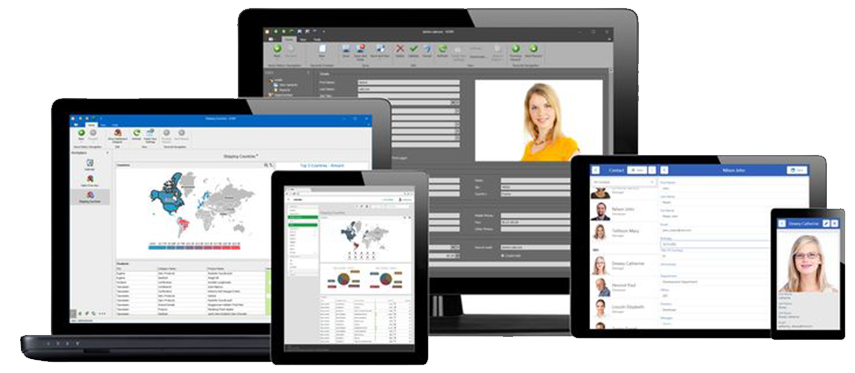 Our Business Knowledge & Expertise In Technology Can Help Your Business Grow
.
A Few Of The Industries We Serve
.
HERE IS WHAT SOME OF OUR CLIENTS HAD TO SAY
.
"HamilTEK Solutions went above and beyond to ensure that our project was handled and reviewed to the highest of standards and has been nothing short of amazing! It's hard to find good hearted and honest people these days and HamilTEK Solutions has displayed just that since the day they were referred to us."
Brennen Hamilton, Rapid Recovery Agency
"HamilTEK Solutions delivered a complete, accurate, and fast system of data storage and processing. They were also very responsive to my questions and handled all issues in a timely manner."
Nancy Isham, University Hospitals
"HamilTEK Solutions created a great app for our interior design business that streamlines our invoicing needs & segregates taxable sales from service sales. It's so easy & affordable & makes invoicing a breeze."
Jo Anne Brashen, Shabby Chateau
"Working with HamilTEK Solutions was a pleasure to say the least. They streamlined our process creating efficiency and accuracy. We used to create savings analysis, invoices, work orders, and proposals separately. HamilTEK solutions created a customized app that encompasses everything to suit all of our needs. This was one of the best business decisions I've ever made. I highly recommend HamilTEK Solutions!"
James Rosan, Hercules LED
Custom software that drives growth
.